Dear colleagues,

It is a pleasure to inform you that the next biannual congress of our society, the Iberian Society of Cytometry (SIC), will be held in Madrid at the Hotel Avenida América, from April 19th to 21st, 2023.
After the hard years of the pandemic, which forced us to communicate mainly through our computer screens, we are very pleased to inform you that, this new edition of our biannual congress (if there are no unexpected circumstances preventing it), will be again face-to-face. During these two and a half days we will have the opportunity to meet again and tell each other about our work and experiences in person, something we dare say we were all wanting and needing.
We have prepared a congress that will cover the applications of cytometry in diverse fields, including clinical, environmental basic research. We have given special importance to the presentation of new technologies that can complement the results obtained by conventional cytometry. This includes particularly the new developments in full spectral cytometry and massive multiparametric analysis, which are maybe called to be the next standard in flow cytometric analysis.
In addition, we have prepared some pre-conference courses that we hope will be useful not only for newcomers to this discipline, but also to update the most experienced.
Do not hesitate and book this event in your agendas. We are waiting for you in Madrid!
Best Wishes,
Lola Martínez and José Carlos Segovia
XVII Congress of the Iberian Society of Cytometry
Madrid, 19th-21st April, 2023

Estimados compañero/as,
Es un placer informaros de que el próximo congreso bianual de nuestra sociedad, la Sociedad Ibérica de Citometría (SIC), se celebrará en Madrid en el Hotel Avda. de América, los días 19 al 21 de abril de 2023.
Tras unos duros años de pandemia, que nos han obligado a comunicarnos principalmente a través de la pantalla de nuestro ordenador, nos es muy grato comunicaros que, en esta nueva edición de nuestro congreso bianual, y si no hay circunstancias de última hora que lo impidan, el congreso será completamente presencial. Durante los dos días y medio de duración del congreso tendremos la oportunidad de reencontrarnos y contarnos nuestras experiencias y resultados en persona. Algo que nos atrevemos a decir que todos estábamos deseando y necesitando.
Hemos preparado un congreso en el que se presentarán experiencias tanto clínicas como medioambientales, y de biología de procesos básicos. Hemos dado una especial importancia a la presentación de nuevas tecnologías que puedan complementar los resultados obtenidos en nuestros citómetros y, cómo no, a los nuevos desarrollos en citometría espectral y en análisis multiparamétrico masivo, que están llamados a ser el siguiente escalón, y quien sabe si próximo estándar, en el análisis de citometría de flujo. Además, hemos preparado unos cursos pre-congreso que esperamos sean de utilidad no solo para los recién llegados a esta disciplina, sino que también para actualizar a los más experimentados.
No lo dudéis y reservad ya este evento en vuestras agendas. Os esperamos en Madrid!
Un fuerte abrazo,
Lola Martínez y José Carlos Segovia

Estimados colegas,
É um prazer informá-los que o próximo congresso bianual da nossa sociedade, Sociedade Ibérica de Citometria (SIC), terá lugar em Madrid no Hotel Avda. de América, nos dias 19 a 21 de Abril de 2023.
Após uns duros anos de pandemia que nos obrigaram a comunicar principalmente através do ecrã do nosso computador, é com enorme prazer que anunciamos, e caso não haja nenhuma circunstância de última hora o impeça, que esta nova edição do congresso bianual ocorrerá de forma totalmente presencial. Durante os dois dias e meio de duração do congresso teremos oportunidade para nos reencontrarmos e para contarmos as nossas experiências e resultados, em pessoa, cara a cara. Algo que nos atrevemos a dizer que estávamos todos a desejar e necessitar.
Preparámos um congresso em que serão apresentadas tanto investigações clínicas como ambientais, assim como de processos básicos de biologia. Demos uma especial importância à apresentação de novas tecnologias que podem complementar os resultados obtidos nos nossos citómetros e, obviamente, também aos novos desenvolvimentos em citometria espectral e em análise de massa multiparamétrica que estão designados a ser a próxima etapa, e quem sabe, a próximo referência em análises de citometria de fluxo. Para além disso, preparámos cursos pré-congresso que esperamos sejam úteis não só para os recém chegados a esta tecnologia, mas também para atualizar os mais experientes.
Não hesitem e marquem este evento nas vossas agendas. Esperamos por todos em Madrid!
Um forte abraço,
Lola Martínez y José Carlos Segovia

The Iberian Society of Cytometry is pleased to invite you to Madrid for its XVIII Congress that will take place in person from 19 to 21 April 2023 at the Hotel Melia Avenida de América.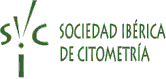 DATES TO REMEMBER
Abstract submission close
23rd February 2023
Notification of results
From 6th March 2023
Early bird registration
8th March 2023